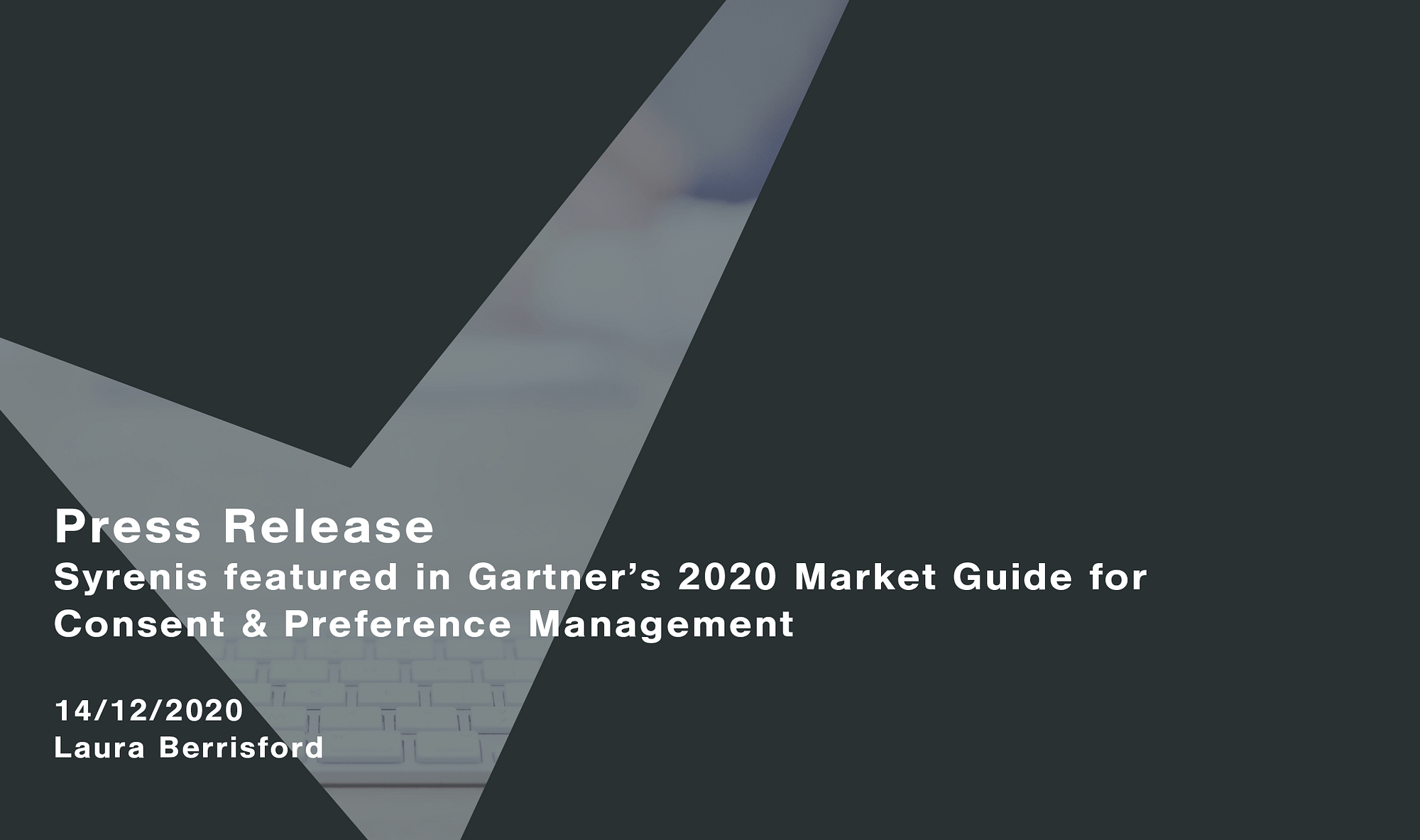 Syrenis Featured in Gartner's 2020 Market Guide for Consent & Preference Management
We are delighted to announce that Syrenis and Cassie have been recognised as a leading vendor and product in Gartner's 2020 Market Guide for Consent & Preference Management. This is our second appearance in Gartner's annual flagship report on the consent and preference space, and a further acknowledgement of Cassie's position as a leading enterprise privacy solution.
Gartner have recognised the significant expansion in privacy regulation footprint and adoption over the past year, coupled with a distinct lack of solutions capable of offering data subjects the granularity and transparency of consent that new legislation affords them. This problem is being exacerbated by rapid changes to the Ad-Tech eco-system – most notable being the introduction of Safari's Intelligent Tracking Prevention (ITP).
In this report, Gartner provide their general assessment of the Consent and Preference Management market, which is characterised by the accelerated development of new capabilities driven by continuing regulatory shifts, and the overarching importance of one key feature: "the capacity to maintain a single source of truth, continuously synchronizing various existing consent and preference repositories."
This is considered a major 'Core Services' feature, and when combined with robust capabilities across three other service categories – User Services, Integration Services and Administration Services, comprise Gartner's recommended functionality for an enterprise consent and preference solution.
Given the strict qualification criteria, we are delighted that Syrenis has been recognised as one of the leading vendors in this space, with a product that is confirmed to have "a deep and rich feature set across all four service categories especially where integration is concerned, equally handling data from legacy systems through data loader functions and complex CRM APIs."
Gartner foresee a significant uptick in the number of organisations taking a more proactive, risk-balanced approach to consent and preference, in order to establish themselves as socially conscious and in tune with user sentiment. Despite this, they still find that "Many organizations continue to hold large, legacy repositories of ambiguous user consent, sitting in dozens of stand-alone repositories representing considerable legal and financial risk if they remain unmodernized."
These observations resonate with our experience supporting organisations to compliantly manage the PII of their customers, and only serve to bolster our conviction in CASSIE's ability to deliver a simple yet comprehensive solution to our clients and prospects globally.
Reach out today to schedule a demo of CASSIE and see for yourself why we are recognised as a leading player in the consent and preference management market.
About Syrenis Ltd
Syrenis helps businesses manage customer contact, consent and preference data through their leading personal information management solution Cassie, which, currently, manages more than 1.6 billion preferences. Headquartered in Daresbury, an innovation hotspot in the North West of England, Syrenis works with enterprise organisations across the globe to improve their consent processes. Some of the company's most recognisable clients include The Woodland Trust, Mitsubishi and LexisNexis.
Press enquiries:
Laura Berrisford
Syrenis Ltd
laura.berrisford@syrenis.com